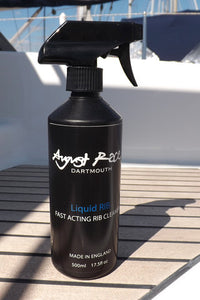 August Race @ full tilt
Well the pace at August Race HQ at the moment is 110mph. We've recently had our photoshoot for new products on the stunning Jeanneau 53 yacht kindly loaned by our friends at Trafford Yachts, and our thanks and props go to our artwork crew for the results which look great. 
After a period of intense development by our lab we are proud to announce the delivery this week of our groundbreaking new products #1 Liquid Rib UV and #2 Smooth Opacity Polish UV. 
#1. After the breakout success of rib cleaner Liquid Rib (as used by most of UK rib manufacturers) the only thing left for us to do was to create a protective spray to prevent damage from reoccurring, and so was born Liquid Rib UV. A rib tube polish with added UV protection, suitable for both Hypalon and PVC.
#2. Smooth Opacity UV (are you noticing a theme?) Question: how do you improve upon the perfection of our August Race Smooth Opacity Polish? Answer: By introducing a protective UV additive to give a long-lasting barrier against the suns ultra violet rays. Job done.
And thats without even mentioning the imminent launch of the iconically unique August Race Deck Bag on May 18. Our seamstresses are squirrelling away in sunny Devon to get them ready for their big day....I think we need a lie down. 
---