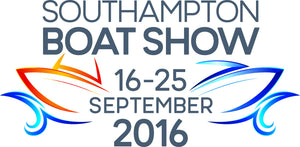 Southampton Boat Show 2016
August Race Southampton Boat Show 2016
The August Race team have just about hit the ground after an outstanding show this year at #SBS16. It was our debut as exhibitors and we arrived at build-up to join an army of purposeful people and a small town under construction. 
The atmosphere was heavy with anticipation and Press Day did not disappoint. In between interviews we were joined by countless trade customers touching base and industry luminaries such as Rio 2016 sailing Olympians like Sophie Ainsworth - who loved the August Race Deck Bag. 
Saturday was the official opening to the public and in the first weekend both the pontoons and the showground were buzzing with a festival atmosphere. Business was brisk and infused with positivity and market confidence, whilst both the Guinness and champagne bars were overflowing. 
It was absolutely fantastic to walk around the show village and see August Race represented by so many well-respected established marine brands who specified that their boats were maintained using AR products. But also for the team to be approached individually by so many industry professionals and to hear their glowing reports of our maintenance range. 
Day 4 and the lovely guys from Team Challenge Racing dropped in and we at AR are proud to be able to support this youth sailing team in their endevours for 2017, furthermore if we could bottle their enthusiasm we would sell more than our maintenance range in its entirety! Looking forward to following their progress next year.
Day 7: A beautiful morning and Ladies Day, where our prosecco ice-bag was a smash hit. 
Day 8 and the awesome brother and sister P1 Superstock 2016 Champions dropped by Sam and Daisy Coleman. They have had an outrageously successful year in the fastest growing marine motor-sport series in the world and they are heading for more successes in 2017 - and we at August Race are proud to announce we will be working in partnership with this dynamic racing duo.
The final weekend and it was a busy one with many thousands attending and the AR team held a boat care workshop which was popular and informative on both sides - we learnt a lot about what folks liked and wanted to see more of! And it was great to touch base with so many varied and interesting people like the winner of the Yachting World competition we featured in (who loved the products so much he had come along to re-stock!) and Agatha Christies' nephew - who is now a customer, it was wonderful to hear his stories about messing about on the Dart with her when he was a child where his love of sailing was ignited. 
Its a wrap! And though it was sad to leave show's community to which we'd been welcomed into so warmly ideas for new products to put into production and exciting new business developments came back to Devon with us. See you next year all! 
www.august-race.com
---